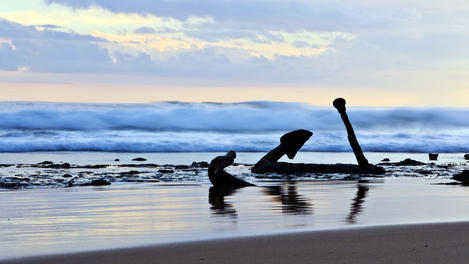 Another adventure had arrived again for my wife Sharon and I. On this trip we decided to invite my good friend and old exercise science lecturer Mike Phillips and his wife Katina along for this great adventure on the world famous "Great Ocean Road Trek". This adventure starts in Victoria, Australia in Apollo Bay a picturesque part of the world at the bottom of Australia. It is 104km long and ends in Port Campbell. The trek lasts for 5 days and averages a distance of 20 km a day with lots of tough terrain. At times we average a 3-4 km an hour in the tough hills that seem to go on forever and hour after hour on some days. Initially we were going to back pack and camp out each night however we decided on the hot shower, hot meal and soft bed option staying in  Bed and Breakfast accommodation for a bit of luxury in the wilds of Victoria.
We lay in bed the night before the trek listening to the teaming rain and storms wondering if we were all quite mad!! I woke to more storms and quickly found my wet weather trekking equipment and was all ready to go….I put on my plastic rain pants, my rain jacket heavy duty walking boots water proof backpack picked up my Nordic walking poles and headed next door to see if Mike Phillips and Katina Philips were all ready to venture out . There they were in their sand shoes, shorts and Mike was wearing his 5 toed rubber shoes, plastic (cheap arse) poncho and freezing their arses off wondering if we were serious about venturing out in this crazy weather. "Yep" I said "We sure are…do you-two want to get ready "I said? We are they replied. "Oh,….ok then let's head off.
We started out at 8am and walked less than 100 meters when Katina started to heat up and developed hot flushes. Katina you see was menopausal and she was sweating in a temperature of just 12 degrees. Katrina stripped off her Chinese made poncho and we continued to walk another 20 steps when the rain and storms started with hail hitting us all on the head, again Katina grappled for her poncho (raincoat) and jumper only to find that by the time she managed to cover up the storm had stopped. Katina then started to strip off again with her face dripping in sweat. In less than 20 minutes we had travelled a total of 120 meters and Katina had managed to have 5 clothes changes in 15 minutes. We all waited patiently gathering around Katina and warming our bodies and hands against her menopause body putting off more heat than a Japanese nuclear plant. I am sure we could have heated the whole of Apollo Bay with this menopausal woman. There was to be many more times throughout the day where the herd (John Mike and Sharon) would gather around this menopausal woman to keep warm and watch the wardrobe of Katina Philips come to life in front of our very eyes. The day drew on with us batteling 5 hail storms in the day, gale force winds, lightning, and heavy rain. And of course Katina keep us entertained with the wardrobe changes. The clothes changes were followed by a lot of huffing and puffing with Katina calling out at regular intervals…"Are we there yet, how much farther, and….. I'm hungry"
I then got into the habit of saying (as we approached mountain after mountain) …."What ever you do …….don't look up "
We stopped for lunch around 1pm after many hours of walking in hail,rain, thunder and lightning…. I knew things were not good with all my companions so when we stopped for lunch it was indeed a time to rest, relax and reflect I thought. That was of course until I sat down, opened my packed lunch of PIZZA (Mike had bought me some 5 hours ealier at the Apollo Bay bakery) Unbeknownst to me I had placed my arse on a Bull Ant nest. Those little Ants were not happy and I can assure you neither was I after about 6 of the little buggers bit my arse!!!.. Lunch ended quickly and me moved forward in more rain to find the pick up point for the "ECO-LODGE  Bed and Breakfast" (Mental note for next trip, bring BAYGONE)
I couldn't wait to get a hot shower and some food. All day I was pictureing a big juicy steak with some pepper sauce. Well, that is what I had conjured up in my mind in the teaming rain and thunder storms. Finally we arrived and there waiting was our pick up vehicle a pleasant sight in deed. We arrived at this enviromentally friendly site where they saved the endangered Quoll spieces and while that was indeed fantsinateing all I wanted to do was get my boots off and have a hot shower.
We were taken to our individual rooms and Sharon and I wrestled each other on the floor to see who would get the shower first. As usual my Wife Sharon won. While It was true I had her beat with a head lock her threat of withdrawing sex for a month won out as usual. I finally showered and lay on the bed dozzing wondering how Mike and Katina were copeing. Probably asleep I thought.
Sharon and I wandered out to the lounge area and much to our suprise there was Mike and Katina perched on the sofa lounge gorging themselves with freshly brewed coffee, tea cake and freshly baked scones all of which were paractically gone !!
Of course in my usual well mannered way I let this go. Sharon and I consumed what was left of the cold coffee and shared a (now cold) scone and half a piece of tea cake.
I couldn't not contain my self and could not stop thinking of the possibilty that a very thick juicy steak was about to hit my stomach. Oh!!…. with pepper sauce as well. Finally around 7 pm the young hostest arrived to take our order. "Now" she said. "you can have a pumpkin stew or some lentils with fish for dinner, what would you all like?" They must be kidding I thought, bloody lentile and Pumpkin Stew ? Are they serious?….. At this point I held myself back from saying" Pumpkin Stew is not a meal my friend" As I was about to get the words out Sharon kicked me under the table. The thought of another months penalty stopped me.
The meal arrived and hot water with pumpkin in it was not doing it for me. I looked across at Mike who was puzzled at what looked like Geko Poo on his plate. "Whats this he whispered?" Its bloody lentils mate I said " Its what he said?…It's lentils, if you don't want them I'll have em I said. After all… are you not full of scones, and fucken tea cake ?"
It seemed this ECO LODGE was perhaps some left wing vego set I thought. It was now obvious that ECO LODGE stood for "NO MEAT HOTEL"
A few minutes later the eco friendly ranger came in to see if we wanted to see the Quolls in thier natural habitat. "Will we be BBQ ing them by any chance?" I said. This seemed not to go down too well with the ranger fella even though Katina could see the funny side.
 I finally went to be bed feeling like my throat had been cut. I found the plastic covered biscuits in the room and ate them instead. Scotch Finger biscuits never tasted so good.
Sharon asked if there were any biscuits in the room when we arrived. I didn't tell I lie I just responded with,….."There are no biscuits in this room Sharon (now)"   
We got up at 6am to have breakfast I was hopeing all the pumpkin had disappeared. I was now convinced that they were crazy pocessed Vegatarians, as muesli, french crossoniatnts, home made seeded bread and camameal tea was now greeting me. I was alarmed to say the least how two slices of toast, camameal tea was going to get me through the next 8 hours. I wasn't game at this point to look at what was on my packed lunch.!!!
It was now a typical freezing Victorian day with mist hovering above the very wet ground. "Look at the mist"… one fat frenchman commented " Isnt it just superb" Of course he wasnt about to venture out he was tucked up in the lounge area no doubt waiting for more bloody coffee and tea cake. He was being driven ever where.How I wanted to be him as my testicals hung close to my body as I left the front door.
The weather became warm after 3 hours of walking. I was still feeling weak from the pumpkin soup. BUT !!! I no complain. Sharon kept muttering something about "TIME TO PUT THE PUMPKIN STEW DOWN NOW !!" … I trudged along again, going up and down mountains that seemed to never end with Katina's voice in the back ground saying" can we eat now,…i'm hungry…I'm hot" I of course responed with my standard response of "whatever you do don't look up Katina"
Lunch time arrived and I ripped open my packed lunch of one apple, and yep!!…You guessed it a nicely prepared salad sandwich with avo, tomato, lettuce and grated carrott… Oh Boy I couldn't wait to get this into me !!!
We staggered along joking about what the next Bed and Breakfast would offer us. "Imagine if it's pumpkin again John' Katina retorted. Funny  Katina I said…Funny !!! any way you better not look up..
By this point I was delierious with hunger…Man cannot function on pumpkin I said (repeatedly). I always had my nuts I thought (prepackaged ones folks) that I carried for a famine. This was the moment I thought, so I fell back from the group and told them I needed to pee. "You guys go head I'll catch up you up" I said. There was no way these people were getting my nuts !!!
The trek continued and the small wallaby could obviuosly sense that I was pictureing him on a spit as he took off in such a hurry. The Echinda however was more my pace and if it wasn't for thoses spines it could have become afternoon tea.
The views along the way were indeed sensational. The seas were standing up at over 4 metres and the amazing rocky out crops were breath taking. We finally arrived at our destination for the second night and came out on a road in the middle of two very large hills one that went down and the other one that went straight up. We had a mud map which Mike had lost earlier but had found just prior to our arrival at check point 2.
I was (along with katina) too shagged to read it. We relied on both Sharon and Mike to direct us to the B and B. They fiddeled arsed around oriettaing the map muttering about this way and that way. Finally we headed down the hill  right to the bottom only to learn that they had it upside down. So we staggered back up the hill and then headed up the biggest mountain in the world.
We weaved our way down thier driveway with packs and walking sticks in tow. The lady of the house met us and said I have some lovely hot pumpkin soup for you all to night. (I kid you not) 'Is there a bloody glut of pumpkins on the market" I asked. I reached out to strangle this woman and was restained by the others. She quickly followed up with …This will be followed by a chicken Lasagne. At least its meat I thought.
Not to be out done by the Phillips family. I stayed around the lounge area to get first shot at the cake and coffee. Homemade Anzac biscuits, Macadamia cookies were certainly the go. It was sad Mike and Katina missed these I thought …..Too busy playing with thier TV .
Of course Sharon and my TV was broken so we had to talk to each other.  Just the usual conversations " Do you love me? If I die will you ever re marry?…. Even blind Freddy knows the answer to these ones I thought. What about my golf clubs? Would you give them to your girlfriend she said?" No I said of course not……..she's left handed.
We left earlier that morning and as we were heading out the door the Pommy "B and B" man asked" Would Ya Like A lift to the start then"?… It was a race between Katina and I to say "YES"
We drove down to the start point and we started the third day with our packed lunch of Chicken and salad, nuts and water. Today was hard and we puffed and wheezed our way up and down the mountains, with me constantly calling out "Don't look up Katina" and Katrina would respond with the normal "Oh shut up will you ?!!". Again the scenery was magic with the mountains of stone cliffs mapping out the bottom of Australia as we walked alongside the rugged coastline known as the "Great Australian Bight. It was about now that Katina realized the walk to the chicken pen to collect the eggs and back was really not enough training.  Today saw Mike and my worst nightmare. One menapausal woman and one Peri-menapasual woman gathering thier forces to create and inflict evil on others. (Mike and I that is)
Those questions where you know there is no right answer for would suddenly appear. Am I preety?….Do you think I have lost weight on this walk Mike?….. "Yes I think so dear"… he would say. This would be followed by "Dont patranize me Mike"…."You don't think I have do you? "Don't look at me"… I said Mike" That would be right " said Sharon…."You blokes are all alike, sticking together!!! I encouraghed Mike to walk faster and up the front with me.
We contined to surge ahead walking in mud and leeches was looking good for these two blokes. Mike and I continued on our merry way solving the problems of the universe. It seemed this trip we talked about every tabo there was……religion (or lack of it) politics and even sex. Together Mike and I managed to solve the problems of women across the world.
Most sentences would start with "If only they would ……..BLAH BLAH BLAH!!!…. I cannot reveal this here as it is secret men's business. Mike was slightly ahead when he stood on a snake (which made it angry at me) and I quickly darted out its way. It was at least 200 mm long !!! I reached down and caressed the Snake to calm its angry body and gently placed it in a safe place…AHHHH Nah!!….. kidding. I flicked the little bastard out the way with the pointy sharp end of my nordic pole and it flew 20 feet in the air. Who said snakes can't fly. It was at this point I thought the Foyer of  the Melbourne Hilton was looking good. It started to rain again and we all got drenched as usual.
We finally stoppped and ate our little lunch and big lunch all together. I was depleted of carbs and I started to laugh at absolutely nothing. It was at this point Mike and I recorded a video production on my iphone on how to POO best in the bush. Apparently a full squat with your knees up near your head was best. At the time I thought "what great information for the intrepid trekker, I must put this clip on my bog…sorry blog. Since I arrived home I have decided against it!!
This event was quickly followed by picking up Kangaroo POO and trying to figure how long since the kangaroo had been in this spot, Singing …"99 Green bottles hanging on the wall if one green bottle should accidently fall there would be 98 green bottles hanging on the wall" (well you know how the rest goes quite a long song really), Another favorite was the song " She will be coming round the mounntain when  she comes…she will be wearing pink pajamas when she comes……..and of course I spy with my little eye something begining with the letter "R" …"Rocks" Sharon answered. "Yes I said how did you get it so quick ..your turn"
When we tried playing "John The Baptist" and trying to turn water into wine it was very obvious that we were all going quite mad !!! The enchanted forests seemed to be now more prevalent then ever. AHHHHHH look at all the fairies in the the enchanted forest" I said.
We arrived at the end point and waited for our pick up from our newest host Lex. We loved Lex instanly, he was a cranky old fart that hated everybody and everything. I finally felt like I was home. A man who was even more jaded and pissed off with the world and all its bullshit then I was. We hit it off beautifully whingeing our way through dinner then breakfast. Lex was a movie projectionist and he hated all the movies I did. It was like having a brother from another mother !! We even covered global warming bullshit, mining taxes, bludgers that didn't want to work who thought the world owed them a living….. the list was endless and I took great pleasure in seeing someone fire up even more than me. The good part was we were staying with Lex the next night as well so the following day I wrote  a list of topics to keep him going the following night. What about stamp duty Lex?, What about the tax we pay on the money we have already paid tax on and placed in the bank Lex?, What about how the government says something then changes its mind after they are elected Lex?…Oh it was sooo much fun. Lex was our entertainment ……I loved Lex !!! He think I saw a tear in his eye when we left him after the second day !!!
Mike was not not feeling too well as Katina (after some very long hard days) seemed to enjoy snoring. Night after night Mike endured the wrath of Katrina (and I also with Sharon snoring as well). But as decent blokes we did not complain !! This day I was to become Mike's care-er. My couselling skills were now suddenly very handy!!!
You see he wanted to jump off every cliff we came to just so he could get some sleep. On two ocassions I talk him down from the cliff face. Katina's calls of "WHAT-EVER " were not helping. The final reasurance of my nose spray in my back pack would do the trick with Katina's snoring was the clincher and Mike agreed to come away from the edge.
We again climbed more mountains and as the planes and helicopters passed over head I was sure the were going to drop off a skiny latte double shot for me. This was not to be sadly. I asked Sharon , Mike and Katina if they thought using the "Epirb" we carried was for such an emergency. Ahhh "no" they said in unison.
As the day progressed I thought of dinner..perhaps tonight I may get a nice quiche I thought ..mmmm… that would be lovely. (as you see I was disorientated from the lack of food)
The final day came . Day 5. It was here we learnt that Katina had "jelly snakes" in her back back and extra supplies of nuts and sultanas. She had forgetten these, like she had fogotten the Yak/Possum/Larma hand knitted wollen hat from the lost tribes of tibet we gave her as well. Or the Map we gave her for safe keeping that she lost!!….But a sweating menapasual woman in minus 5 degrees with glaring dagger eyes is a disturbing site one does not want to deal with at this point.
The last day was on the beautiful untouched beaches with anchors, ship wrecks and an amazing array of shells and rock pools to discover and look at. The day went quickly and we were indeed sad to see the end of this amazing scennery and journey .
The team finished up the next two days in Melbourne catching up with Rachel (Katina and Mikes daughter) visiting the MCG for a Carlton /Richmond match where Carlton won (Sharon and my Team) and a feast to be sure at a local Greek resturant (mmm an all you can eat buffet and OH !!….. and a few steaks and a few beers as well)
We will be certainly planning the next trip together. For all the tall stories, for all the funny jokes at everyones expense these two people were indeed fantastic to travel with . I have never laughed and enjoyed my self so much. Thanks to Mike Katina and my beautiful wife Sharon for another great adventure.
By: John Hart
Master's In Education" (Disability/Rehab) Newcastle University Australia
"Grad Cert Education" Newcastle University Australia
"Diploma Fitness/Recreation"
"Diploma of Sport and Recreation"
"Cert 4 Personal Training"
"Level 1 Strength and Conditioning Coach"
Member of ASCA (Australian Strength and Conditioning Association)